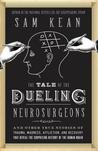 The Tale of the Dueling Neurosurgeons: The History of the Human Brain as Revealed by True Stories of Trauma, Madness, and Recovery
by
Sam Kean
My rating:
5 of 5 stars
I try to keep up-to-date on new science books, I usually do this just by browsing my library's new release catalog. That was how I originally stumbled across
Sam Kean
's first book,
The Disappearing Spoon
, which was amazing and I was so excited that I was able to listen to it on audio. That book is still one of my favorite science books I have ever read, and I hope to re-read it soon.
Needless to say I became a
Sam Kean
fan immediately and have kept abreast of his new books [you can read my review of
The Violinist's Thumb here
]. When this book came out I was disappointed that the audiobook release was delayed. Eventually, it did come out and I finally got around to listening to it, but not until after I met him at a conference a year ago.
Back in January 2015, he was the first Keynote speaker at the SECO conference and I made sure to leave early enough to make it to hear him in time, since his talk was the first thing after registration opened and since I had a long drive to get to the conference. His talk focused on his second book, which I had read, but like all of his books there was a lot of information overload and I was reminded of a lot that I had forgotten. At the end of his talk he took questions, one of which was mine, and I had learned from his webpage that his background was in physics, so I asked him if/when he intended to do a physics book [since he's done: elements/chemistry, genetics, and neurology]. He told me that he was still looking for the gripping and engaging stories like the ones he told in these books, but that he did have a file of stories to expand upon to eventually write that book. He then signed books afterwards, and I got my copies of his first two books signed, and he informed me that the copy of
The Violinist's Thumb
that I have is the UK edition/cover and we talked casually for a while. One of the few
tweets I've ever tweeted
came about after that encounter.
Anyway, on to my review of this book. Like all of his others, this book was stellar. He told amazing, surprising, sometimes funny, sometimes horrifying stories, all of which enlightened me about what we know about the brain and what we still have to learn. I was hardly able to put the book down and enjoyed it thoroughly. I'm debating still whether I want a copy for my classroom because of the age-appropriateness of some of the stories, but I did share many things I learned from the book with my students in off-topic discussions we had around the time I was reading it because I love learning and sharing new things. Now the problem is I am left hanging and waiting for another book from him, because the other downside of this one and his others is that it was over too soon.
View all my reviews