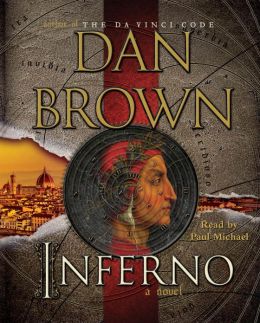 Like all Dan Brown novels this book was fast-paced and focused on where art meets symbology meets thriller. I was glad that this book was different than all of the rest of his in that it did not open with a murder, it was just getting old and it was nice to have a different hook this time. More than anything this book reminded me of how much I enjoyed reading Dante's
Inferno
in college. I don't recall if we covered it in English Literature my sophomore year, but I would be surprised if we did not, but I did end up listening to it while working for building services mopping and vacuuming floors in the building that was my normal stomping grounds anyway, the ENS [Engineering, Nursing, & Science] building. I never read the full comedy, even though I have always wanted to and am committed to doing so now. The other largely enjoyable thing about this book was that, and I don't think I will spoil anything by saying this, the focus also had a scientific bend to it.
Dan Brown's first two novels
Deception Point
and
Digital Fortress
both focused on science topics, life and SETI along with evolution and biology in
Deception Point
and computer science and code-breaking in
Digital Fortress
. To a much smaller extent the bomb at the center of
Angels & Demons
was scientific since it involved anti-matter, but the science focus was minimal. The next two Robert Langdon novels had no science to speak of, but here in
Inferno
the science was realistic and current. The debate about biological research and genetic engineering as well as how much information should be publicized when very lethal biological studies are conducted is pressing and relevant. The concern of population growth and Earth's limited resources is also interesting and although the solution that the book points to is reprehensible the discussion is needed and awareness needs to be raised. Lastly, I don't agree with all of the ideas of trans-humanist, but some of them are valuable and worth pursuing.
The only complains I have of the book have to do with it being a little annoying that so much of what Langdon accomplished was because he was being deceived and because he started the book with amnesia which seemed unnecessary. I think the book would have held up on its own if the main story occurred without the redundancy of repetition caused by the amnesia. Not Dan Brown's best book, but I'll come back for more, if nothing else it is a guilty pleasure.- ES2082